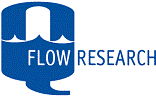 Flow Research, Inc.


27 Water Street


Wakefield , MA 01880


+1 781-245-3200


+1 781-224-7552 (fax)

Dear Friend of Flow,

A lot has been happening at Flow Research in the past few months. We published our Volume X study, The World Market for Flowmeters, 3rd Edition, in October. This study covers the entire flowmeter market worldwide, which now has grown to over $5 billion. In the past month, we also published our liquid analytical study, which covers the eight leading liquid analytical applications. Read on in this newsletter to find more information about both these exciting new studies.

Our next major project is the worldwide gas flow study, which includes five accompanying modules. The modules are standalone studies, but we are calling them modules because they are all related to the core gas flow study, which is the 2nd edition of a study first published in 2004. For information on this exciting new cluster of studies, go to www.gasflows.com. This study is unlike any we've previously done, as it will look at the gas flow market from five different perspectives and will have detailed information on the producers of natural gas worldwide and by region.

We have also begun work on a parallel series of studies on oil flow that will provide complete detail on the market for oil flow measurement worldwide. Just as we are doing with the gas flow studies, we will have modules that include profiles and detailed information on the leading oil producers worldwide, along with data on production and reserves by region. We are producing a study on custody transfer of oil, and one of multiphase flow measurement. These two clusters of studies promise to be the most exciting studies we have ever done, especially with oil currently trading at over $100 per barrel.

In addition to gas and oil flow, we are smack dab in the middle of new positive displacement, turbine, and pressure transmitter studies. So there is no shortage of work here at Flow Research. We have also recently redesigned our main websites to make them more useful, thanks to the talents of one of our new research analysts, Christina Glaser. I might add that we are now displaying the price of crude oil on top of the Stockwatch that appears on many of our sites, including www.flowresearch.com. In addition, we are displaying the prices of oil and gas on a "realtime" basis at the top of our www.flowresearch.com site.

Flow Research will be attending the GasTech 2011 show in Amserdam from March 21 – 24, so if you will be there, let me know. Perhaps we can enjoy a coffee or an enjoyable conversation at the show. We view this as a chance to get to know the oil and gas producers better.

Of course, who can complain about going to a trade show in Amsterdam, my favorite city in the world?

This is a very exciting time at Flow Research and we hope to hear from you!

Yours in flow,

Jesse Yoder, PhD

President, Flow Research, Inc.