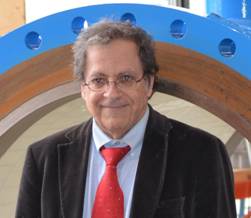 1. Letter from the President
In 2017, Flow Research did in-depth new studies on the ultrasonic, magnetic, and thermal flowmeter markets. In these cases, we concluded that the flowmeter markets in 2016 showed a decline from 2015 levels. In fact, we believe that 2016 represented a kind of trough for the flowmeter markets, and that these markets were back on the upswing in 2017. We attribute these changes mainly to the decline in oil prices in 2015 and 2016, and to the accompanying reduction in exploration and production projects. However, with oil prices rising in 2017, and peaking above $60 per barrel at the end of the year, we see positive signs that the flowmeter markets recovered in 2017. And with the groundwork laid for higher oil prices in 2018, we believe that this recovery in the flowmeter markets will continue in 2018 and beyond.
Outlook for 2018. OPEC has already extended its production cuts to the end of 2018, which means that world oil production is likely to increase only modestly this year. On the other hand, as noted above, the Energy Information Administration (EIA) is projecting an increase in demand for petroleum fuels of 1.7 million barrels per day in 2018 and 2019. And the International Monetary Fund (IMF) is projecting an increase in global economic growth of 3.7 percent in 2018, meaning that the strong global economic growth can be expected to continue. All this is a formula for higher oil prices. Goldman Sachs is predicting oil prices of $82.50 in the next six months. We believe the data supports a projection of $75 oil by September 2018.
The above analysis is very good news for flowmeter and instrumentation suppliers. With large projects making a comeback, higher oil prices, and strong global economic activity, the formula is there for a strong increase in flowmeter sales in 2018. This should especially favor new-technology meters such as Coriolis, ultrasonic, and magnetic flowmeters. It is also good news for suppliers of multiphase and watercut meters, as exploration and production activity increases. We are likely to also see the return of subsea projects. While the flowmeter market appears to have bottomed out in 2016, it was on the upswing in 2017 and appears to be headed for a banner year in 2018. Stay tuned to Flow Research as we continue to follow these exciting developments!
We hope you enjoy this issue of FlowTimes, we wish everyone a good year, and we thank you for your loyal support over the past years.
2. Oil's Wild Ride, 3rd Edition — Flow Research's Latest Whitepaper
Flow Research has been following oil and oil flow measurement for many years. Oil market fluctuations have an important influence on economies in general and some flowmeter and other instrumentation markets in particular. After a period of high prices, oil prices began to drop in 2014. It has been a "wild ride" from early 2014 highs near $100 per barrel to early 2016 lows under $30 per barrel, and a slow climb back to a crucial benchmark of $60 per barrel in late 2017. What shifting factors have been at work and what's likely to come in 2018 and beyond?
Flow Research has been taking a close interest in the fluctuations, the causes behind them, and the consequential influences of this "wild ride" of oil prices. We brought a lot of the information and analysis together in the first edition of our Whitepaper Oil's Wild Ride in early 2016, with updates in the second edition. Given further developments and insights since then, it is time for another expanded perspective: Oil's Wild Ride, 3rd Edition, just published at the start of 2018.
This Whitepaper brings together all in one place the pertinent data, explanations and analysis to help you see and understand the big picture and the complexities. Because we started collecting and examining information and factors at play early on, this Whitepaper contains some details that would now be harder to find and puts them into the context of an overview of several years.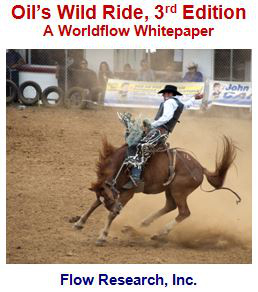 Oil's Wild Ride, 3rd Edition, tracks changes from 2014 to today, explains types of oils and pricing, and examines reasons behind the changes. It provides background for understanding key factors and organizations at play, including OPEC and the OECD. It looks at some of the economic effects, both influences and consequences, and gives perspectives on prospects for where things are likely going from here. Particular focus is given to examining the balance between supply and demand, including influences of technological developments and shifting supplies and demands, OPEC's actions, the context of the world economy, and the relation of OECD to the oil market and prices.
This information will be of special interest to any company that sells instrumentation into the energy-related markets and to anyone who needs to understand the underlying reasons for changing oil prices and their influences on economies and markets. Contact Flow Research to find out how you can obtain a copy of Oil's Wild Ride, 3rd Edition.
3. From GPI: FLOMEC® QSE Mag Flowmeter Makes Electromagnetic Flow Measurement Accessible to Commercial and a Wide Variety of Industrial Applications
Wichita, Kansas; August 17, 2017 — FLOMEC Engineers at Great Plains Industries, Inc. (GPI®) are introducing the breakthrough FLOMEC QSE Mag electromagnetic flowmeter (QSE Mag). By harnessing innovative engineering and U.S. precision manufacturing, GPI delivers better performance, higher quality and an attractive price.
"Our engineering team took an entirely fresh look at flowmeters, utilizing new materials, new design ideas and new manufacturing methods to achieve the first real breakthrough in electromagnetic flowmeters in years," said Vic Lukic, CEO of Great Plains Industries, Inc. "This type of breakthrough has to come from engineering. It can't be produced from sourcing, offshoring or unsustainable pricing schemes."
The QSE Mag dramatically raises performance expectations for monitoring flow measurement and is priced comparably to far lower performing meters currently employed in commercial and industrial applications. Examples include water/wastewater, cooling tower, turf, landscape, and other water reclamation applications.
Features and Benefits
Low investment and operating costs
+0.5% accuracy of reading
Wide turndown ratio of 60:1
Operating temperature range (1/2"–2": 32°F to 210°F) (3"–4": 32°F to 180°F)
Non-intrusive, with no moving parts to wear out, virtually maintenance free, and tolerates high flows without damage
The slightly modified bore permits unobstructed flow and minimizes flow disturbances and straight pipe requirements
7 line sizes (1/2" to 4") ½", ¾", 1", 1.5", 2", 3", & 4"
Housing ported with "Thermal Well Supports" for sensors (Energy Management)
Compatible with FLOMEC® 09 Electronics Display or FLOMEC QSI I/O Board
The QSE Mag is also compatible with the new FLOMEC App, an Android mobile app that uses Bluetooth® wireless technology for complete meter configuration and programming in minutes. The FLOMEC app interface allows for meter operation to be viewed in real-time and provides the ability to receive technology downloads and feature upgrades via Bluetooth. (iOS app coming in 2017).
(This is an excerpt from the full press release.)
For more information on the QSE Mag meter visit flomec.net/qse-qsi.
Or contact Great Plains Industries, Inc. at gpi.net.
Flow Research features articles, analyses, products news, and topics related to flowmeters and other process instrumentation in one of our Worldflow Service quarterly publications, Market Barometer. For more information about Worldflow, visit www.worldflow.com.
4. The World Market for Magnetic Flowmeters, 6th Edition
Flow Research is pleased to announce The World Market for Magnetic Flowmeters, 6th Edition, published October 2017. In this study, we shed light on product developments, major suppliers, factors at work in the market, and provide significant segmentation, worldwide and by region, such as industries, applications, mounting types, power types, communication protocols, and more.
Since their introduction for commercial use in 1952, magnetic flowmeters have become one of the most widely used types of flowmeters for measuring the flow of water and other liquids, particularly in the Water & Wastewater and Chemical industries, and also in the Food & Beverage and Pharmaceutical industries. More than 50 suppliers worldwide now offer magnetic flowmeters.
One of the ways flowmeter suppliers are meeting sanitary requirements is by placing hygienic liners inside the meters. Recent introductions of battery-operated magnetic flowmeter models enable users to install in remote locations, often on a wireless basis.
This study includes the following elements:
2016 market size in US dollars and units for magnetic flowmeters worldwide
2016 market shares of the leading suppliers
Forecast of market growth in dollars and units through 2021
Segmented data both worldwide and by eight global regions
Product analysis for the primary suppliers
Industries and applications
Strategies for success
Profiles of the leading magnetic flowmeter suppliers
Flow Research has been covering the magnetic flowmeter market for over 17 years. We provide updates in our Worldflow publication, Market Barometer, and include data on the overall magnetic flowmeter market size in each edition of Volume X: The World Market for Flowmeters. We have also conducted user interviews that show that interest in magnetic flowmeters remains at a very high level.
For more information, please visit www.FlowMags.com.
5. Sierra Introduces One Complete Industrial Flow Energy Solution
In What Sierra Calls the "Big-3™," Three Advanced Technologies Cover All Air, Gas, Water and Steam Applications
Monterrey, California; February 2018 — Sierra Instruments announces the launch of its new flow energy solution for managing and optimizing flow measurement for industrial facilities of all sizes. It features Sierra's QuadraTherm® 640i/780i thermal flowmeters, its InnovaMass® 240i/241i vortex flowmeters, and its new InnovaSonic® 207i ultrasonic flowmeter.
Designed, built, and calibrated in the USA by Sierra, the Big-3™ share the same innovative Raptor firmware and many of the same software apps. They are a complete flow energy solution for flows like compressed air, natural gas, steam, and hot and chilled water. Together, they set a new standard in ease-of-purchase, performance, accuracy, reliability, and ease of use.
(This is an excerpt from the full press release.)
Learn more by following these links:
Big-3
™ and
Download Big-3 information sheet
.
Or contact Sierra Instruments at
www.sierrainstruments.com
.
Flow Research features articles, analyses, products news, and topics related to flowmeters and other process instrumentation in one of our Worldflow Service quarterly publications, Market Barometer. For more information about Worldflow, visit www.worldflow.com.
6. The World Market for Thermal Flowmeters, 2nd Edition
Flow Research is pleased to announce The World Market for Thermal Flowmeters, 2nd Edition, published in January 2018. There have been many changes in this market since the first edition in 2009. We believe that this has been an optimal time to again quantify the size of the worldwide and regional markets, and to take an in-depth look at the factors both supporting and limiting the potential for future growth. In this study, we cover thermal flowmeter types, factors at work in the market, major suppliers, products, significant segmentation such as industries, applications, fluids measured, communication protocols, and more.
Some of the growth in this market is due to expansion in the need for environmental monitoring. Intensified environmental awareness, together with the Kyoto Accord and other greenhouse gas initiatives, has resulted in increased need and demand to measure greenhouse gases in applications that formerly may have been overlooked. Many of these applications present opportunities for thermal flowmeters.
The study includes the following elements:
2016 worldwide market size and market shares
Forecast of market growth for all types of thermal flowmeters through 2021
Industries and applications
Product analysis for the main thermal flowmeter companies
Strategies for success
Profiles of the main companies
Flow Research has been following the thermal flowmeter market for over fifteen years. We provide updates in our Worldflow publication, the Market Barometer, and include data on the overall thermal flowmeter market size in each edition of Volume X: The World Market for Flowmeters. For more information, please visit www.FlowThermal.com.
7. Crude Oil Tops $66 per Barrel
Wakefield, Massachusetts (February 5, 2018) — The price of crude oil exceeded $66 per barrel in the last week of January and on February 1, 2018. This is the highest point prices have reached since May 2015. Since that time, prices have mostly fluctuated in the $40 to $55 range. As a result, in 2015 and 2016, many oil exploration projects were canceled or delayed. This had a ripple effect on the flowmeter and instrumentation industry, as demand for instrumentation in the oil and gas industry fell significantly.
While there are many oils from different parts of the world, the most closely watched oils are the benchmarks West Texas Intermediate (WTI) crude and Brent crude. The crude oil quoted in this Flash Report as rising above $66 per barrel is WTI. Brent oil typically trades several dollars higher than WTI, though on some days the gap can be wider. For example, on January 11, 2018, Brent crude topped out at $70.05, while WTI reached $64.77.
WTI is traded on the New York Mercantile Exchange (NYMEX) and is composed mainly of oil drilled in the United States from fields in Texas, North Dakota, and Louisiana. WTI is transported to Cushing, Oklahoma, where it is stored. About 90 million barrels of oil are stored in Cushing, Oklahoma.
Brent crude oil is extracted from oil fields in the North Sea. Brent is mainly extracted from four oil fields in the North Sea. While it is considered to be both light and sweet, it is slightly heavier than WTI. Brent futures are traded on the ICE Futures Europe in London. The price of Brent crude is a benchmark for oil produced in the North Sea and sold in Europe, Africa, Australia, and some Asian countries.
Why have oil prices increased so much over the past two months? There are two main reasons for this: OPEC's (Organization of Petroleum Exporting Countries) production cut and increasing demand for oil due to improved economic conditions. In addition, Venezuela's oil production is declining. In December 2017, oil production was at its lowest point since 2002, and it is down 27 percent since 2014.
This is an excerpt from our latest Flash Report. Flash Reports are part of our Worldflow Monitoring Service. For more information about Worldflow, visit www.worldflow.com.
8. Get Your Free Trial Subscription to Worldflow Monitoring Service!
Did you know you can get a free trial subscription to our Worldflow Monitoring Service? A trial subscription includes the quarterly publications Energy Monitor and Market Barometer, plus any Flash Reports & Whitepapers that come out during the trial period.
Energy Monitor features news, trends and projects in the Oil & Gas, LNG & Fracking, and Power & Renewables industries and related topics. It also includes "Issues and Perspectives" market analysis by Jesse Yoder, and a highlight of a region, organization, or company.
Market Barometer reports on industry news and trends, acquisitions, mergers and other company changes, industry-related topics and new product developments in categories covering each major flowmeter types plus several other process instrumentation types and flow calibration. It also includes "State of the Industry" summaries of current market research by Jesse Yoder, and a "Company Korner" profile.
Flash Reports feature analyses of hot news topics between issues of the quarterly publications. Whitepapers take an in-depth look at specific market-related topics.
To get your trial subscription, you can click the "Free Offer" link on our Worldflow information page at www.worldflow.com, or visit our secure Online Store at flowstudy.com and click on the Worldflow tab, or contact us directly.
9. Studies from Flow Research
2017 Published Studies: The year of 2017 was a fascinating and productive one at Flow Research, including custom projects, presentations at conferences, and publication of all of the following off-the-shelf market studies:
First 2018 Published Study: We started 2018 with a new edition of our thermal study.
Some 2018 Upcoming Studies: Flow Research is already well under way with ambitious plans for another productive year of projects and studies, starting with these requested topics:
Visit the study links for overviews and ordering links plus other information related to the topic. You can also visit our convenient Secure Online Store, at www.flowstudy.com, where you can browse by topic, find information about our studies and Worldflow publications, see options and prices, and use the easy, secure way to order. As always, if you prefer, you can still order our studies the same ways as before: by email, fax, mail, or by giving us a call.
Other studies from Flow Research: In addition to flowmeter market studies, Flow Research also follows and publishes studies on the markets for other types of instrumentation, and related topics, such as the temperature sensors study mentioned above and others including:
For more information about all the off-the-shelf studies available from Flow Research, visit our main website at www.flowresearch.com, or visit our All Studies website at www.flowstudies.com that lists them by topics, or contact us.
Don't see exactly what you need in the off-the-shelf studies? Flow Research also does custom projects. Contact us to discuss how we can help you.
10. In Memoriam
While we usually reserve these notices for the Market Barometer, and we regret that we cannot cover everyone, Flow Research would like to briefly make solemn note here of the passing during the past year of a few people we knew in the world of flow measurement. We extend our sympathy to the families, friends, colleagues and all who will miss them.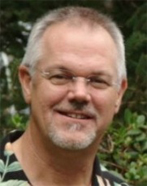 Craig Schieding passed away on April 26, 2017. We knew him as Director of Sales & Marketing at Eldridge Products, Inc. As for the man beyond a long career at EPI, his family's eulogy honors his strong spirit and loving relationships, his sense of humor, talents as a writer and artist, his intellect, and broad range of knowledge.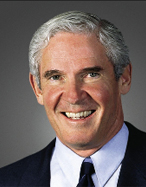 Charles F. "Chuck" Knight, former CEO of Emerson Electric Co., passed away on September 12, 2017. One statement from the company calls him a legendary business leader and references his legacy of "spectacular contributions to our company, our customers, and the industries we serve." It also acknowledges his contributions to the company's home base area: "He left both Emerson and St. Louis better and stronger."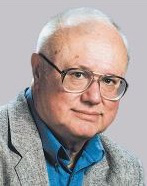 Dick Morley passed away on October 17, 2017. Often called Father of the PLC, he was many things, including an engineer, entrepreneur, innovator, and writer. Flow Research's Jesse Yoder got to know him when Dick was hosting gatherings at his New Hampshire place for Geek Pride Day during its fledgling era of the early 2000s. Their association over the ensuing years included working together on a book. Dick contributed commentary to The Tao of Measurement, by Jesse Yoder and Richard E. Morley, published by the International Society of Automation (ISA) in March 2015, a book that looks at the past, present, and future of flow, sensors, and measurement.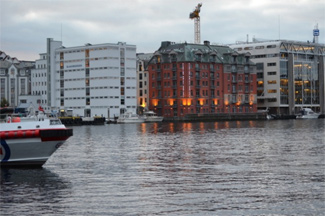 FlowTimes is published by
Flow Research, Inc.
27 Water Street, Wakefield , MA 01880 USA
+1 (781) 245-3200, +1 (781) 224-7552 (fax)
info@flowresearch.com
www.flowresearch.com
Executive Editor: Dr. Jesse Yoder.
Assistant Editors: Leslie Buchanan and Vicki Tuck