welcome to
Hot Hot Topics - August 2003
The Monthly Newsletter from Flow Research, Inc.
Editor: Jesse Yoder - Volume 4, Number 4 - ISSN 1350-7204
Previous issues of Hot Hot Topics
Welcome to the August 2003 issue of Hot Hot Topics! In this issue, we explore some of the new products coming into the flowmeter market, and look at some underlying trends. Pictured below is Yokogawa's European headquarters in Amersfoot, The Netherlands.
Overview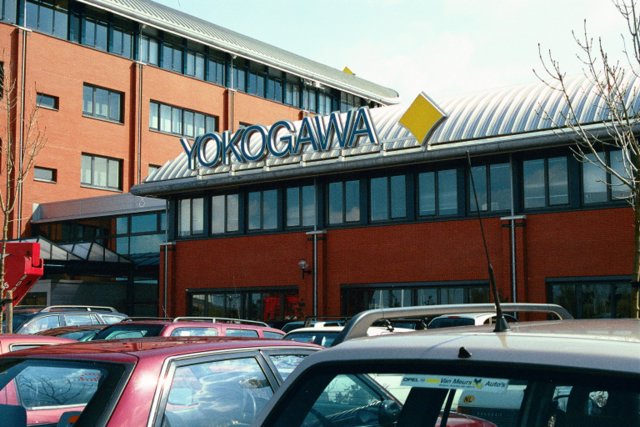 This issue gets off to a bang with the article The New Wave: Feature-Rich Products. Suppliers compete on price, new-tech vs. traditional tech, service, and in many other ways. This article looks at the new wave of feature-rich products and discusses what is causing this wave. Vanished Companies tells you where many of those companies you've been wondering about have gone. The Worldflow Handbook describes a new guide to flowmeter selection from Flow Research. New products from KROHNE and from Marsh McBirney are featured. You can also learn about International Flowday 2003. And be sure to check out the latest study from Flow Research, The World Market for Flowmeters, the only study available that includes all ten flow technologies.
Articles
1. The New Wave: Feature-Rich Products. This article describes the new trend in flowmeters and field devices towards developing feature-rich products. It says that this trend is driven by end-user needs, and gives examples of products that illustrate this trend. (PDF Version)
2. Vanished Companies. Do you ever wonder what happened to Fischer & Porter? Elsag Bailey? Badger Meters' ultrasonic division? Who owns Danfoss? Panametrics? EMCO? Milltronics? Thermometrics? Get the answers to these and many more questions at our newly updated Vanished Companies page. Check out this page to stay updated on who's buying and who's merging.
3. Worldflow Handbook Now Available! - Are you trying to figure out where to buy that magnetic flowmeter? You need The Worldflow Handbook! The Worldflow Handbook contains up-to-date contact information for over 350 flowmeter suppliers from around the world. It also includes a guide to flowmeter selection, including the paradigm case method, and a list of suppliers for each of the ten flowmeter types.
4. KHRONE Releases the UFM 3030 - a 3-beam ultrasonic flowmeter for liquid applications (PDF file)
5. Marsh-McBirney Announces the Flo-Tote 3 - a new version of the Flo-Tote open channel flowmeters (PDF file)
6. International Flowday 2003 will be held this year on October 16 at the Bretby Conference Center in the United Kindgom. Flowday offers manufacturers, distributors, consultants, and end-users a unique opportunity to get together and discuss matters flow-related.
7. The World Market for Flowmeters (PDF File) - Flow Research has recently released a new study that includes all flow technologies. This is the first study of its kind in ten years. This comprehensive study has market size and market share data for Coriolis, magnetic, ultrasonic, vortex, DP, positive displacement, turbine, open channel, thermal, and variable area flowmeters. Individual studies are also available on all these technologies.