welcome to
FlowTimes - March 2010
Your Update on Flow, Temperature, and Pressure Measurement from Flow Research
Editor: Dr. Jesse Yoder; Volume 11, Number 1 - ISSN 1350-7204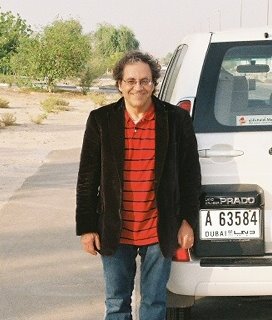 Welcome to FlowTimes! This issue updates you on some important new developments in the world of flow. It also brings you up-to-date on some of our new and upcoming market studies. As you will see, the push for energy and the search for oil and gas is having an impact on the world of flow, and it is impacting our projects as well.

From July - December 2009, I did quite a lot of traveling to the Middle East and Europe. This travel was mainly connected to research we are doing for our upcoming study on gas flow measurement. I found the Middle East to be a fascinating place, with massive natural supplies of both crude oil and natural gas. Besides Dubai and Abu Dhabi, I visited Saudi Arabia, Qatar, and Oman. You can read more about my trip, and find out our upcoming study schedule, in the Letter from the President.

2. Environmental Requirements Boost Thermal Flowmeter Sales. The new age of environmental awareness, together with the Kyoto Accord and and greenhouse gas initiatives, has resulted in a rewriting of the rules on greenhouse gas emissions. There is suddenly a demand to measure greenhouse gases in applications that formerly may have gone unnoticed. Many of these applications present opportunities for thermal flowmeters. These new environmental requirements are helping boost the sales of thermal flowmeters. You can find out more in our new study, The World Market for Thermal Flowmeters, which is hot off the press! Find out more at www.flowthermal.com.

3. FMC Technologies Acquires Multi Phase Meters. Houston, Texas (September 24, 2009) -

FMC Technologies, Inc. (NYSE: FTI) announced today its intent to acquire Multi Phase Meters AS (MPM). Based in Stavanger, Norway, MPM is a global leader in the development and manufacture of high-performance multiphase flowmeters for the oil and gas industry. FMC intends to acquire 100 percent ownership of MPM upon closing, with an initial cash payment of approximately $30 million and two earn-out payments based on 6.6 times 2012 and 2013 EBITDA. The transaction is expected to close in the fourth quarter of 2009 and be accretive in 2011. For more, go to www.flowtimes.com/Flowtimes/March_2010/FMC.htm.

Note: For comments on the meaning of this acquisition, see our Market Barometer, Q3 & Q4 2009.

For information on the Market Barometer, go to www.worldflow.com.

4. Exxon to Acquire XTO Energy. Irving, Texas (December 14, 2009) -- Exxon Mobil Corporation (NYSE: XOM) and XTO Energy Inc. announced today an all-stock transaction valued at $41 billion. The agreement, which is subject to XTO stockholder approval and regulatory clearance, will enhance ExxonMobil's position in the development of unconventional natural gas and oil resources.

Under the terms of the agreement, approved by the boards of directors of both companies, ExxonMobil has agreed to issue 0.7098 common shares for each common share of XTO. This represents a 25 percent premium to XTO stockholders. The transaction value includes $10 billion of existing XTO debt and is based on the closing share prices of ExxonMobil and XTO on December 11, 2009. For more, go to www.flowtimes.com/Flowtimes/March_2010/Exxon.htm.

Note: For an in-depth analysis of the meaning of this acquisition and other acquisitions in the natural gas industry, see the Energy Monitor for Q3 & Q4 2009.For information on the Energy Monitor, go to www.worldflow.com.

5. Flow Research will soon publish a study on the worldwide vortex flowmeter market. This study is scheduled for delivery in February 2010, and is called The World Market for Vortex Flowmeters, 4th Edition. We plan to reveal how the market has changed since the American Petroleum Institute (API) approved its standard for the use of vortex flowmeters for custody transfer applications. This approval occurred in January 2007. For more information, including an updated study overview, go to www.flowvortex.com. This website also has links to nine articles on vortex flowmeters, including one published in the June 2009 issue of Flow Control.

6. Here is our study schedule for this year (drum roll please). By becoming a Founding Sponsor for these studies, you can participate in the research and also receive a significant discount:

7. Stay up-to-date on developments in the flowmeter and energy industries with a free trial subscription to the Worldflow Monitoring Service. Our Worldflow Monitoring Service includes quarterly reports and timely updates:
Market Barometer – A quarterly report on the flow, temperature, and pressure markets

Energy Monitor – A quarterly report on the oil & gas, refining, power, and renewables industries

Flash Reports – Breaking news in instrumentation and energy

White Papers – In-depth analysis of important issues

Worldflow Online – 24/7 access to market data, strategies, and past Worldflow reports going back to 2002
The Worldflow Monitoring Service features a website, www.worldflow.com, which serves as the launching pad for Worldflow Online. To receive a free trial subscription to this valuable service, go to www.worldflow.com and fill out the Free Trial Subscription Form, or send an email to info@flowresearch.com with your contact information. Please be sure to include your mailing address when requesting a free trial subscription.
What do you think of FlowTimes? We welcome your comments! Please send any comments or suggestions to jesse@flowresearch.com.
FlowTimes is published by Flow Research, Inc.
Editor:
Dr. Jesse Yoder – jesse@flowresearch.com
Associate Editors:
Belinda Burum – belinda@flowresearch.com
Norm Weeks – norm@flowresearch.com
FlowTimes is published by Flow Research, Inc.
Flow Research, Inc.
27 Water Street
Wakefield, MA 01880
(781) 245-3200
(781) 224-7552 (fax)